Wednesday afternoon, Special Council Robert Mueller made his first public statement since the release of his 448 page report detailing the extent of Russia's interference with the 2016 Presidential Elections. In his address, Mueller set the record straight and reiterated the contents of his findings: Russia meddled in our elections, the President's team welcomed Russian interference and the President tried to obstruct the investigation in eleven different instances.
Special Counsel Mueller made clear that he did not exonerate the President when he stated, 'If we had confidence that the President clearly did not commit a crime, we would have said so.' He stated that the decision not to indict stemmed directly from the Department of Justice's policy that a sitting President cannot be indicted. Despite Department of Justice policy to the contrary, no one is above the law – not even the President.
The Congress holds sacred its constitutional responsibility to investigate and hold the President accountable for his abuse of power. We will continue to investigate and legislate to protect our elections and secure our democracy. The American people must have the truth. We call upon the Senate to pass H.R. 1, the For The People Act, to protect our election systems.
We salute Special Counsel Robert Mueller and his team for his patriotic duty to seek the truth.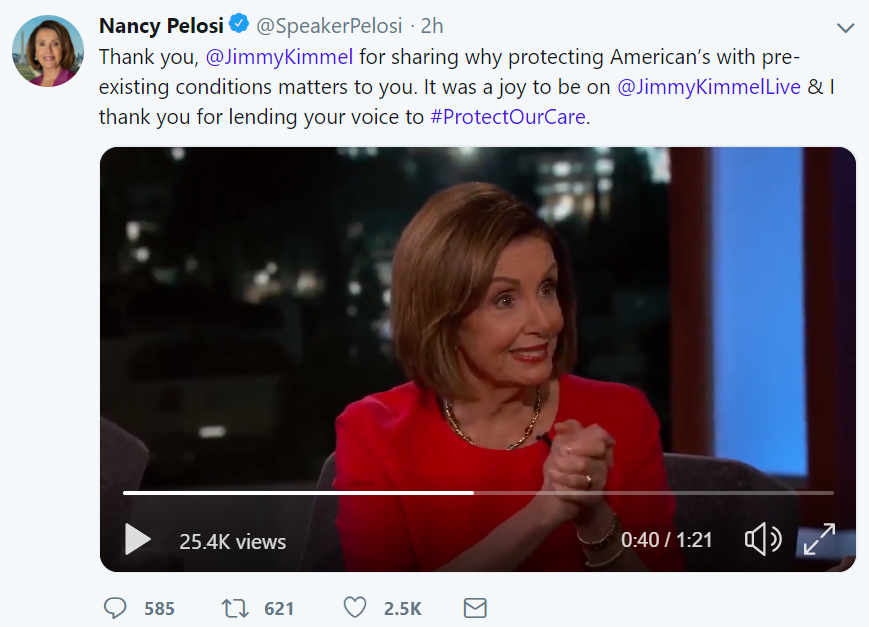 Congresswoman Pelosi speaks at the San Francisco State University commencement for the Class of 2019
The Third Sabotage for Bipartisan Disaster Funding
Yesterday, House Republicans sabotaged a bipartisan disaster relief bill that has already passed the Senate and has approval from the President. This is the third time this week that we have been stonewalled by Congress for trying to bring aid to Americans in need, and these Americans cannot wait any longer.
Just days after sabotaging a bipartisan and bicameral bill to provide urgently-needed relief to millions of American families reeling from natural disasters, House Members have repeated their stunning act of obstruction – even after more deadly storms ravaged our country over the weekend.
For more than four months, Members of the Senate, White House and now the House have forced millions of American families to pay the price for their cruel actions. This shameful sabotage needs to end immediately, and the House must be allowed to pass the bill that the bipartisan Senate has finally agreed to. House Republicans also objected to a critical extension of the Flood Insurance program which will expire this Friday leaving the agency without the ability to issue new policies just as hurricane season begins.